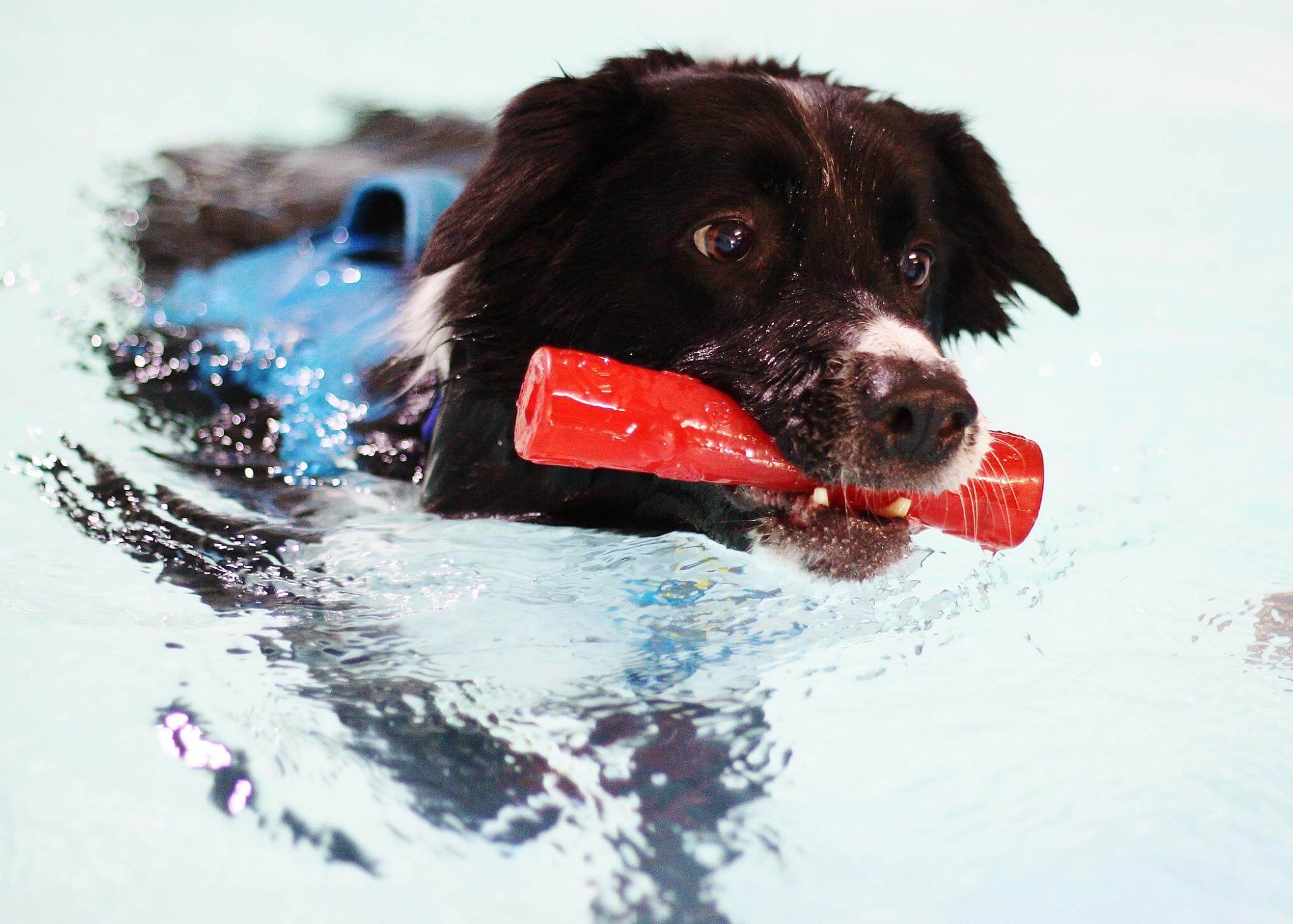 Reason for Hydrotherapy
Severe Hip Dysplasia & Fracture
Oscar started to attend Bluewaters Canine Hydrotherapy Centre in Worcestershire due to hip dysplasia and following a fracture to his left femur that was repaired and plated.
Because of Oscar's condition we had to start his treatment in the underwater treadmill to avoid any over extension or abduction of his left hind limb. Oscar took to this really well and he made a lot of progress. Initially he was very reluctant to put his weight through his left hind leg and he didn't extend either hind leg very far – this improved as the sessions went on, greatly aided by the incline feature on the treadmill.
As Oscar loves swimming his owner was keen to see him in the hydrotherapy pool and as he'd gained so much supporting muscle through his treadmill sessions his veterinary surgeon agreed that he could proceed to have swim sessions in the pool. Oscar took to the pool straight away, he swims figures of eight following a toy which really gets him using all of his muscles evenly; he extends his legs well and swims calmly.
Oscar loves his sessions in the pool and has a wide repertoire of tricks to keep us on our toes! Oscar will swim to the ramp for a rest when you use the word 'ramp' and when he is due to finish we have to say 'last time'; whereby Oscar visibly slows right down on his last lap as he doesn't want to leave the pool as he doesn't want to get out! You really have to watch your conversation poolside as Oscar's ears are always tuned in listening and may just do the opposite of what you want him to!
Oscar has made so much progress since the start of his sessions and his owner reports she hardly sees any problems with his mobility. Oscar can still occasionally become slightly stiff on his left hind leg after exercise but this is rare now. Oscar has gained muscle on all four legs, the measurements have all evened out too! He has lost off his waist also.
We love seeing Oscar at the centre each week; he is such a character and always knows how to make us laugh!