Breed: Romanian Rescue Cross Breed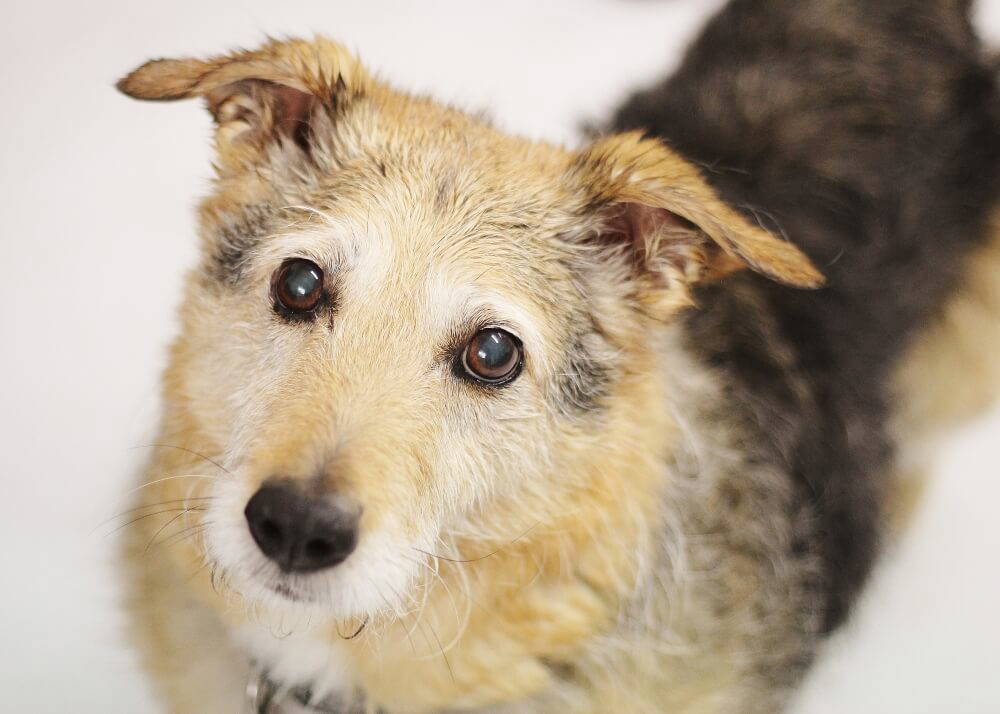 Hydrotherapy at Bluewaters
Owner Perspective – Maci the 'Tripawd'
Thank you to Maci's owners for the following piece of writing:
Maci came to the U.K. from Romania 5 years ago when he was around 8 years of age. He had been taken into rescue after being hit by a car. Maci had suffered a broken pelvis and severe damage to his hind leg. He was advertised as needing a permanent home. His prospects of finding a home were not good due to his health issues and age. Consequently we decided that he should come and live with us.
Initially Maci was treated for arthritis in his injured leg and did well for some time, however it deteriorated badly at the beginning of 2017. He was referred to an orthopaedic specialist where the extent of his problems became apparent. It was agreed that conservative management would be tried which involved medication and hydrotherapy for a period of time with the understanding that it may not be possible to save his leg.
The prospect of Maci having water therapy was somewhat daunting. This was for a couple of reasons, both of which I believe resulted from his difficult background on the streets of Romania Maci was terrified of water and he understandably had trust issues. I was concerned that the prospect of someone he didn't know immersing him in water may undo the progress he had made over the years he had been with us. My search to find the best possible facility brought us to Bluewaters.
The staff at Bluewaters were welcoming and reassuring from the onset. We agreed that Maci would start in the Underwater Treadmill which means that he didn't have to be covered in water. The calm and considerate handling of him by the staff there quickly won his trust which meant he was able to progress to hydrotherapy sessions in the pool with no adverse affects on him.
Sadly as anticipated at the onset it was not possible to save Maci's leg. His orthopaedic vet stated that 'as before I feel it is likely that sciatic pain is causing much of the clinical presentation on and recommend amputation'. Consequently his right hind leg was amputated in August 2017. Maci is now pain free and living life to the full. Maci did remarkably well post amputation with the hydrotherapy sessions he'd had beforehand had strengthened his other legs which put him in a good position to go forward as a tri-pawed dog. He resumed his swimming sessions as soon as his amputation wound had healed. Maci swims regularly to maintain the strength in his remaining legs. He enjoys his visits to Bluewaters and loves the positive attention he gets when he is there.
Maci is an amazing little dog. He has overcome so much adversity in his life. His friends at Bluewaters have played an important part in his remarkable journey to become the happy and active dog that he is today.
The details to the left have kindly been provided by Maci's owner.