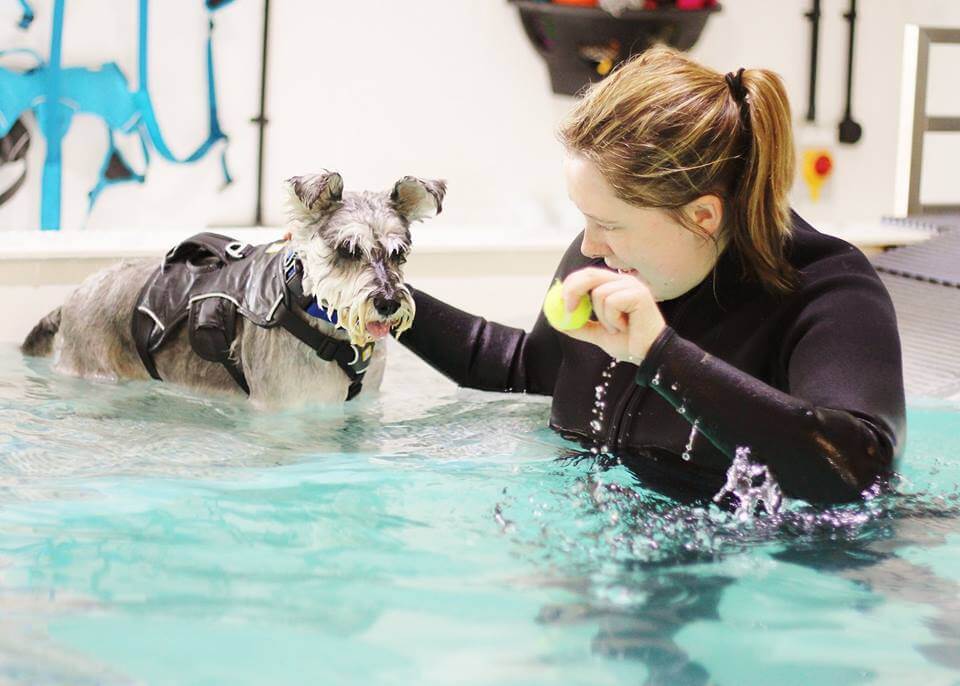 Reason for Hydrotherapy
Cruciate Ligament Surgery (Lateral Stay Suture)
Georgie started to attend Bluewaters Canine Hydrotherapy Centre on 19th February 2018. Georgie underwent two separate surgical procedures to repair her left cruciate ligament, both were unsuccessful and poor Georgie was left with a pronounced limp on her left hind limb. She mostly made her way around on 3 legs and was extremely reluctant to weight bear on the affected limb. Georgie's owner could tell she was in a lot of discomfort which was understandably very upsetting to see. We did initially try to conduct Georgie's sessions in the underwater treadmill to encourage Georgie to bear weight through her left hind limb; but it became apparent that she would be more suited to the non-weight bearing exercise that the pool offers to try and encourage her to extend her left hind limb as she was so used to holding it up in a flexed position. Georgie started to thoroughly enjoy her sessions in the pool however she was not progressing as we had hoped and would still not put her left hind limb to the floor or extend her left hind limb in the pool. Georgie was eventually referred to Willows Referral Centre in Solihull to be examined by one of their orthopaedic surgeons, unfortunately Georgie required further surgery. Thanks to the skill of the veterinary surgeon at Willows Georgie recovered from her surgery very quickly, once she was signed off and had recovered sufficiently enough to recommence her treatment Georgie returned to Bluewaters. She has gone from strength to strength and her range of movement in the pool has improved considerably. Georgie now extends her left hind limb well and her extension is now even on both hind limbs. Georgie's owner has been absolutely delighted with her progress and reports that you would never know there had been a problem with Georgie's mobility now. She also enjoys seeing Georgie enjoy herself so much at the centre – she certainly keeps us entertained with her antics. Since the start of her treatment Georgie has gained a considerable amount of muscle on all four limbs, she has gained a whopping 10 cm on her affected limb (that is a huge amount for
a little dog!) and her hind limb measurements are now even which is a fabulous result. We really enjoy Georgie's visits to the centre each week, she is such a sweet natured little girl and has a very special place in our hearts. She arrives at the centre with a "woo woo woo" to let us know she is waiting and can't wait for her session with "Mr Parrot" (we really should get more imaginative with our naming of toys!) Georgie most certainly has a spring back in her step it's wonderful to have been part of her journey to recovery.
Georgie had undergone two unsuccessful cruciate ligament operations and was becoming more and more lame. She came to Bluewaters to strengthen her wasting muscles. She was referred to a specialist hospital and had a final operation where they said if she hadn't had hydrotherapy she would not have had the result she had. She is walking again and running around. Georgie still comes to hydrotherapy which she loves to do. Georgie was never a dog that swam but now she just loves it. She gets so excited to get into the water plus the health benefits are brilliant. The team are great and like a family – we thoroughly enjoy our visits, thank you Bluewaters!
Diane