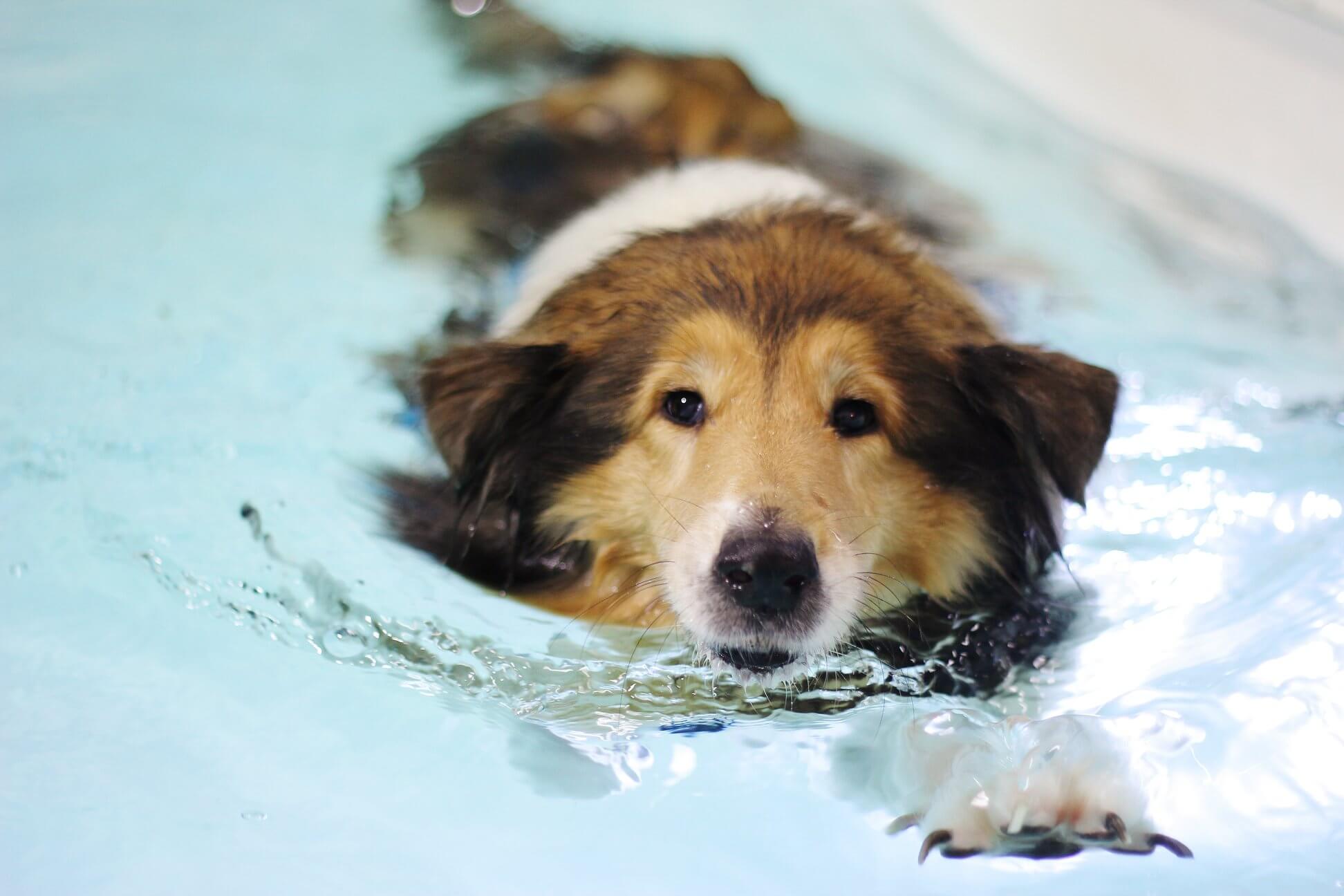 Reason for Hydrotherapy
Degenerative Joint Disease
Maggie
started to attend Bluewaters Canine Hydrotherapy Centre in December 2018,
Maggie
was suffering with ongoing lameness issues on her left forelimb; elbow dysplasia was diagnosed.
Maggie
underwent an arthroscopy to remove a loose fragment of bone and other necrotic bone. On
Maggie
's first session we discussed her history with her owners, they reported that
Maggie
was very stiff through her left forelimb and limped the majority of the time, especially when rising from rest and after exercise. As with all dogs swimming for rehabilitation, we took muscle mass measurements from all four limbs along with a waist measurement.
We decided to conduct
Maggie
's treatment in the hydrotherapy pool as she is a sensitive, nervous dog and we all felt the enclosed nature of the underwater treadmill would be too much for her.
Maggie
was apprehensive to start with but soon settled into her sessions nicely as we went really steadily with her.
Maggie
's range of movement was generally quite good through her forelimbs although she did sometimes splash with her forelimbs, lifting them out of the water so we worked hard on adjusting her swimming position to correct this. There was minimal hind limb extension to start with and both hind limbs abducted (kicked outward) but her extension improved by the end of the first session. As
Maggie
has progressed through her sessions she has really settled and swims level now instead of dropping her bottom and splashing with her forelimbs. The extension and flexion are generally good through both forelimbs although there is slightly less extension from her left elbow. Her extension is good through her hindlimbs.
Maggie
's owners have been delighted with
Maggie
's progress and report she isn't limping at all now; her demeanour has greatly improved and she seems back to her normal self. When we re-measured her muscle mass it was great to see that her measurements have increased.
Maggie is such a special girl who will stand waiting for her cuddles before she has her harness put on. She loves having everyone poolside while she swims and has earned herself the nickname of 'her Maggie'sty'. We are all very fond of her – its great to see her on a weekly basis.
Maggie had a bad limp, she had recently had an operation to improve degenerative joint disease and was not showing much improvement. Maggie was also showing signs of stress due to the pain she had been in. Maggie is a very shy dog, the vet examining her, manipulating the joint caused her to be snappy and she became withdrawn.
It was after about 4 sessions that she stopped limping, her fitness level has at least doubled. Maggie is nearly 9yrs old and is behaving like a puppy, full of energy and fun. We now have a real job keeping her calm, she hasn't felt this well for years! She loves the attention that she is getting.
Bluewaters is a magical place for Maggie, she has never swam before and she thinks and feels she is a superstar. The ladies at Bluewaters are so kind and sensitive to her. It took her time to learn to swim naturally, the ladies coached her all the way. The pool is clean, warm and beautiful. We enjoy coming very much too!
Steve & Sue